Professional Cookery Erasmus Plus Programme
By
bifeadmin
Wednesday, 22nd May 2019
Filed under:
Five lucky Professional Cookery students from Bray Institute of Further Education are currently living the dream in Northern Spain as part of the Erasmus Plus programme. The students who are part of the 2yr Professional Cookery course are on an international exchange to the Valladolid area of Spain are fully immersed in Spanish culture for a month in a working and learning environment.
Whilst in Spain they have been lucky enough to visit Segovia, Valladolid and Leon as part of the learning experience and have visited local food producers, farmers and restaurants. They are also working fulltime in Spanish kitchens and are experiencing a way of working that is very different to the Irish kitchen culture.

The chefs are working a Spanish day so go into their assigned kitchens at 11 am and work through until 4pm at which stage they sit down as a family and enjoy a meal before afternoon siesta and then return to the kitchen for 8pm evening service until evening service is completed around midnight. During their days off they have the added benefit of being able to visit other Spanish cities to learn more about food, life and Spanish culture. 

The BIFE Professional Cookery programme enables chef students to earn and learn and has links to not only the Castile and Leon area of northern Spain but also with Sweden's' Stockholm Cookery school and hopes to grow this relationship with other European countries in the future to allow future students to participate in international exchange.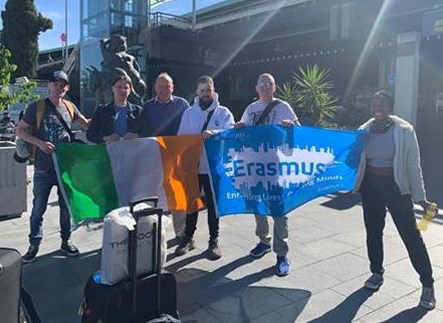 From L to R: Radu Borga, Sylwia Bis, Martin Potts (Teacher), Philip Nolan, Barry Reid, Nicole Mazhandu arriving in Madrid.