Violin and Piano Scholarships
3 full scholarships and 3 half scholarships for free violin or piano and theory tuition for one year with top professional teachers at BIFE College of Music.
Open to boys and girls aged 10 - 18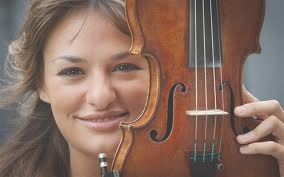 Closing Date Wednesday April 5th at 5pm
Finals on Thursday April 6th, 2017
Prizewinners Concert Tuesday, May 2nd, 2017
Rules

Full and half scholarships are awarded by merit to competitors on violin and piano in each of the Junior, Intermediate and Senior categories making a total of 3 full violin/viola, 3 full piano, 3 half violin/viola and 3 half piano scholarships.

RULES

Entry is open to piano and violin students of the Bray Music Centre and also to piano and violin students taking tuition elsewhere. No preference will be given to internal or external candidates.
Competitors must perform 2 pieces with piano accompaniment.
The adjudicator's decision is final.
Half scholarships cover half of the cost of a 30-minute individual violin lesson and a 30-minute group theory class weekly for two terms of 14 lessons and cannot be taken in the form of one term on full scholarship. There is no deduction made if the Theory option is not taken. All violin candidates must submit piano accompaniment with their application form.
Competitions will be held on Thursday April 6th between 4 and 6pm, at Bray Institute of Further Education, Novara Avenue, Bray. 
 
PRIZEWINNERS will also play at the Mermaid Arts Centre, Bray on Tuesday May 2nd  at 8p.m. You must be free on this date.
Students may bring their own accompanist or use the accompanist provided at a charge of €20. The accompanist is not liable for the performance of the student.
There is a €20 entry charge for applications which covers the cost of the heat and the Finals. For students of Bray Music Centre this also covers entry to the in house competitions held separately. Bring copies of the violin or piano music as well as the piano accompaniment where applicable for your 2 contrasting pieces. 
There are 3 categories – Junior, Intermediate and Senior. All contestants should be of school age.
 

Entry Form

Adjudicator - Thérese Fahy

The adjudicator of the Finals this year will be Thérèse Fahy

Dublin-born Thérèse Fahy, one of Ireland's foremost pianists, enjoys an active performing and teaching career at home and abroad. Her regular recital and concerto appearances throughout Europe and the United States have met with critical acclaim, as have her numerous broadcasts for both RTÉ and BBC.

Her engagements have included solo recitals, lecture-recitals and masterclasses in France, Italy, Poland, Spain, USA, the Czech Republic, Ethiopia and Ireland, as well as serving on the international juries of the Dublin International Piano Competition, the Manchester International Concerto Competition in Great Britain, and the prestigious Baltic International Piano Competition.

Recently, Thérèse received a major Music Project Award from the Arts Council for her especially commissioned collection of six solo piano pieces, entitled Handprint, from Irish composers Bill Whelan, Raymond Deane, Siobhan Cleary, Michael Holohan, Grainne Mulvey and Benjamin Dwyer. The world première recital of all six pieces was an acclaimed highlight of the New Music Dublin Festival in March 2014.

A graduate of Trinity College Dublin, a Fulbright scholar and a French Government scholar, Thérèse Fahy is a senior professor of the piano faculty of the Royal Irish Academy of Music, and served as Director of Chamber Music there from 2000 to 2010. Her students have been First Prizewinners and Finalists in many international competitions.