Visual Music/Cross Sensory Synesthesia
By
bifeadmin
Wednesday, 22nd March 2017
Filed under:
Visual Music/Cross Sensory Synesthesia
BIFE teachers collaborate on Visual Music Project
When we listen... can we see, touch, or even smell the sound?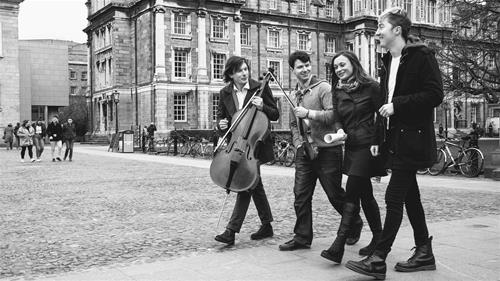 3rd May 2017, 8 pm, John Field Room, National Concert Hall, Dublin. 10th May 2017, 5 pm, Music Department, Trinity College Dublin.
Téada trio (Svetlana Rudenko, Matt Rafter, Tim Doyle) and Jack Byrne present a new interactive performance experience funded by the Visual and Performing Arts
 Fund, T
rinity College Dublin. Explore touch, sight and aroma of sound through music and visual art. Featured works are by Bach, Chopin, Granados, Yoko Shimomura and Irish traditional favorites. The project is inspired by recent exhibitions in China, Spain and California in the growing fields of Synesthesia Science and Art.
Music has the power to move us all, but for some people it is experienced in a different way- not just heard, but seen, felt, smelt. Among list of synesthetes are Billy Joel, Kanye West, Lady Gaga, Dev Hynes, Frank Ocean, Marilyn Monroe, Jimi Hendrix, Edgar Degas, Edvard Munch, Pythagoras, Vladimir Nabokov, Jean Sibelius, Olivier Messiaen, Alexander Scriabin and Wassily Kandinsky. Synesthesia is a neurological condition that is characterized by cross-sensory perceptions; by one stimulus, people with synesthesia may perceive an additional quality to the experience, such as shape, color, smell, or feeling. Music is one of the stimuli that can induce such effects. Numerous composers and visual artists have tried to capture those multisensory experiences in their works. Recent research at the University of Sussex supports the theories of 'Infant Synesthesia', and the cross-modal brain of newly born children; we can all refresh our experiences of synesthetic cross sensory from our childhood. This concert offers the chance to explore the linking of the senses through the experience of live music performance alongside artworks and digital visuals.
www.svetlana-rudenko.com
Téada Trio and Jack Byrne
Visual Music/Cross Sensory Synesthesia
Wednesday 3rd May 2017
National Concert Hall Tickets €20/ Concessions €15
 www.nch.ie/01 4170000