Career Day
By
Gabriel Allen
Friday, 12th January 2018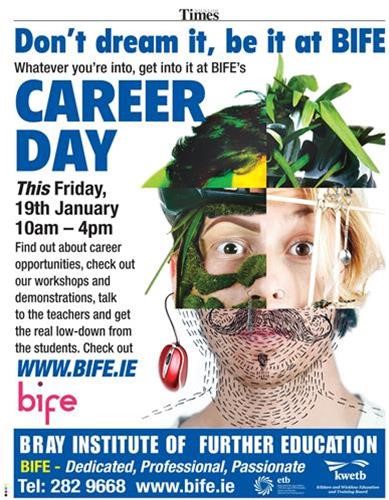 Welcome to BIFE OPEN DAY
Bray Institute of Further Education (BIFE) is a centre of excellence in the field of Further Education for the past thirty years.
At present BIFE has over one thousand full-time learners studying at Diploma and Certificate Level and over one thousand learners on part-time courses.
The dedicated staff at BIFE have years of experience in Further Education and promise to assist you in achieving your potential.
Meet them on Friday 19th January from 10am to 4pm and discuss your future!
Lectures will take place in the Institute library and room 18 &19 from 10:30am. Learn about your career path and speak to the staff who, with their educational knowledge and specialist industry experience, can guide you in the right direction. 
Workshops, demonstrations and presentations will run throughout the day allowing you to speak to BIFE students and get their views on the courses.